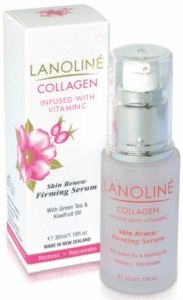 Product code: COLFS35
Size: 35ml
Packaging: Boxed bottle
$20.95
Lanoline Collagen: Skin Renew Firming Serum
With Green Tea & Kiwifruit Oil
LANOLINÉ Collagen Skin Renew Firming Serum is an advanced skin moisturising serum combining natural derived peptides infused with Vitamin C oil extracts. Added benefits of Collagen, help combine to assist with maintaining a balanced healthy and hydrated skin.
Directions: Cleanse and dry the face. Gently massage into skin with fingertips.
Ingredients: Aqua, Glycerin, Nonoxynol-12, Aloe Barbadensis Leaf extract, Polysorbate 20, Hydrolysed Collagen, Vitis Vinifera (Grape) Seed Extract, Aqua (and) Propylene Glycol (and) Hydrolysed Soy (and) Aloe Barbadensis Extracts, Benzyl Alcohol (and) Salicylic Acid (and) Glycerin (and) Sorbic Acid, Acetyl Hexapeptide-3, Sodium Hydroxide, Tocopheryl Acetate, Acrylates/C10-30 Alkyl Acrylate Crosspolymer, Camellia Sinensis Leaf Extract, Ascorbyl Palmitate, Actinidia Chinensis (Kiwifruit) Oil, Citrusaurantium (Neroli) Oil Parfum.