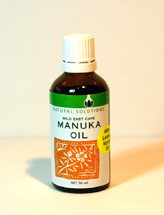 Product code: MANEXM50
Size: 50ml
Packaging: Bottle
$14.60
Natural Solutions Manuka Oil: Mild Manuka Oil (4%)
Mild - 4%
Natural Solutions East Cape Manuka oil is distilled from our native Tea Tree of New Zealand and has long been valued for its healing ability.
Natural Solutions Manuka Mild Oil is ideal for application directly from the bottle and makes the perfect addition to the first aid kit.
It can be used for minor cuts, abrasions, bites and stings.
Experience has shown that the oil and cream effective in treating such things as athletes foot, ringworm, thrush and other skin infections. Its antiseptic and antifungal properties have now been validated by research and it would appear to be an extremely effective natural healing product.
Natural Solutions oil has been developed with the support of scientific agencies. Modern analytical methods have been used in an effort to understand why Manuka possessed such special qualities. This understanding allowed Natural Solutions to search the wild plantations for the Manuka that yielded the oil of greatest quality. The oil yielded from these superior plants became known as East Cape Manuka.
Directions: apply the oil to affected area as required. Oil may be deluted with vegetable oil.