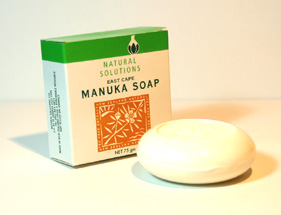 Product code: MANEXS100
Size: 100g
Packaging: Boxed
$8.60
Natural Solutions Manuka Oil: Soap (4% Manuka Oil)
Contains 4% East Cape Manuka oil
Manuka is a native Tea Tree of New Zealand and has long been valued for its healing ability.
Natural Solutions MANEX Manuka soap is ideal for killing odour causing bacteria on the skin and is excellent for teenage skin problems.
Experience has shown that the oil and cream effective in treating such things as athletes foot, ringworm, thrush and other skin infections. Its antiseptic and antifungal properties have now been validated by research and it would appear to be an extremely effective natural healing product.
Natural Solutions Manuka oil has been developed with the support of scientific agencies. Modern analytical methods have been used in an effort to understand why Manuka possessed such special qualities. This understanding allowed Natural Solutions to search the wild plantations for the Manuka that yielded the oil of greatest quality. The oil yielded from these superior plants became known as East Cape Manuka.
Active ingredient: Essential Oil of Manuka 4%