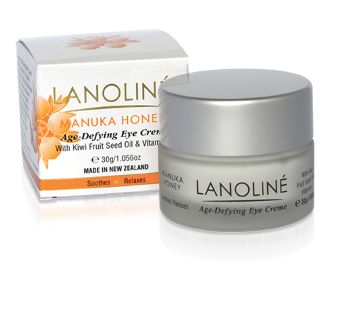 Product code: MANEYE30
Size: 30g
Packaging: Boxed pot
$20.95
Lanoline Manuka Honey: Age-Defying Eye Crème
ECO LANOLINÉ Manuka Honey Age Defying Eye Crème, helps relax the delicate muscles around the eyes to reduce the appearance of fine lines and wrinkles. Enriched with Natural Active Manuka Honey, Vitamin E and natural oils, hydrates, soothes and relaxes strained eyes.
Directions: Gently apply around the contours of the eyes, using the finger tips in an upward outward motion. Use morning and evening.
Ingredients:
Aqua, Prunus dulcis (Sweet Almond) Oil, Glycerin, Cetearyl alcohol, Cetyl Alcohol, Mel (Manuka Honey), Stearic Acid, Glyceryl stearate, Sodium Hydroxide, Sodium PCA, Benzyl Alcohol (and) Salicylic Acid (and) Glycerin(and) Sorbic Acid, Actinidia Chinensis (Kiwi) Seed Oil, PEG-20stearate, Tocopheryl acetate.